Let's be honest, parents don't want to put their kid(s) to bed at a hotel then sit silently in the dark looking at their dimmed phones. If you're staying for just a night, perhaps you just deal with it, but if you're on an extended trip, this is no way to enjoy a vacation!
Fortunately, there are hotel chains that have separate living room and bedroom areas, some with even two separate bedrooms. (I'll cover some of these hotel chains later in this blog). Unfortunately, these rooms tend to be quite expensive. So, what alternatives are there?
You may also find it helpful to take a peek at my post, 7 Great, Budget-Friendly Products for Active Parents, as it includes some useful products for travel.
Airbnb
Hands down, the best option in my opinion, is Airbnb. As popular as it's become, I'm still surprised how many people with kids have not used it. Before you begin thinking it involves sharing a house with a stranger, let me dismiss that right now. You can filter the options for "Entire Place" so that you have the place to yourself. I will add however, to not completely dismiss sharing the place. My family has stayed in places where we had private rooms and bathrooms and felt like we had complete privacy even though the owners were there. Sometimes, this arrangement was even more enjoyable because we had the opportunity to engage with the owners if we wished, which in our experience has always been wonderful.
Airbnb also has filter options for number of bedrooms, number of beds, number of bathrooms, as well as setting price ranges. Most listings will also describe the sleeping arrangements in terms of what type of bed is in each bedroom. There are even more detailed filter options such air conditioning, TV, washer and dryer, and carbon monoxide detector. These options can be very useful and important when traveling with kids. For example, we stayed at one place during a hot summer day that did not have air conditioning, and it was very uncomfortable. I learned from that experience to look for places with air conditioning if we are traveling during potentially hot weather.
Listings usually include a variety of pictures as well as guest reviews. Nothing gives you a better sense of the quality of the place than other peoples' reviews, so I definitely recommend skimming through the reviews. You should also know that hosts also review you as a guest, so it's important to be respectful of the place and follow all listed house rules. House rules tend to be standard policies such as no smoking and no parties.
If you have any questions about a listing, you can easily contact the host. Any time I've reached out to a host, I've gotten helpful replies in a timely manner. You do need to have an account on Airbnb in order to book a place, but it takes minimal time to do so.
Vrbo / HomeAway
Vrbo (Vacation Rentals by Owner) and HomeAway are the same company at this point. I am less familiar with these and have never used them, but I have browsed the sites before. These are more of the traditional home rentals and all listings are for the entire property. You will see some of the the same properties listed on Vrbo/HomeAway that are on Airbnb. The site setup is similar to Airbnb in terms of filter options and being able to set price ranges. Unlike Airbnb though, it does not appear that you need to create an account in order to book a place on Vrbo/HomeAway.
Hotel Chains with Separate Bedroom(s)
As promised in the opening paragraph, I've listed specific hotel chains below that have rooms with a separate bedroom. My use of separate bedroom refers to the fact that there is a door that can actually be closed to the bedroom. These rooms can work very well for a family even if it's just one separate bedroom as the common area often has a pullout sofa. Or, you brought your own air mattress or Pack 'n Play and just need that separated space to set it up. Please note: not every room at the hotel chains listed below will feature a separate bedroom. Some rooms may be a studio layout for example. Each hotel will vary in terms of available room types, but the chains listed below generally have room types that feature a separate bedroom.
Choice Hotels
I wanted to write about Choice Hotels separately from the above listed hotel chains as I've found them to be a surprisingly good hotel option for families. Choice Hotels is a very large hotel group featuring hotel chains such as Comfort Inn, Sleep Inn, Clarion Inn, Quality Inn, and more. Sometimes, the names of these properties include an "& Suites" ending. In other words, Comfort Inn & Suites or Quality Inn & Suites. This is an important difference because the properties ending with "& Suites" have suite rooms that sometimes have a separate bedroom (or two). Notice I wrote "sometimes" because not all suite rooms are created equally. One property's suite rooms may still be one space just with a pull out sofa or the room may simply be larger. But another property's suite rooms may have a separate bedroom. There appears to be no consistent criteria on Choice Hotels for what classifies a room as a "suite". So how do you know what the room will be like?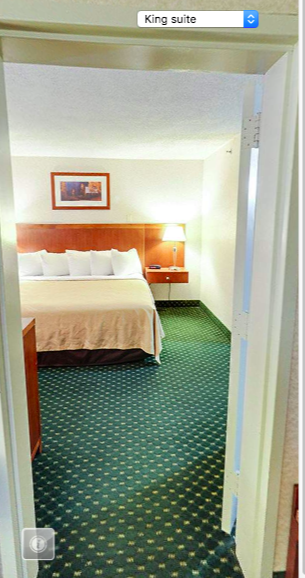 A truly wonderful feature that the Choice Hotels website has is a virtual tour. I really wish more hotel websites had this feature, but I have rarely seen this outside of Choice Hotels. If you select a hotel on the Choice Hotels website, on that property's landing page, you'll usually see a clickable "Virtual Tour" button on the main picture. This will open a window where you can take a virtual tour of the different areas of the hotel including the types of rooms. I've used this feature many times to find good family friendly hotel rooms for our trips. Another bonus is that Choice Hotels seems to generally be less pricey than the other hotel chains listed above.
Be Creative!
There are creative ways you can explore accommodations for your family as well. For example, some hotels have adjoining rooms so you can call the hotel directly and ask if this can be arranged. This can be possible even with smaller motels. This can be a cheaper alternative as well. A bedroom suite at a chain like Embassy Suites can easily cost over $200 per night, but you may be able to book two adjoining rooms at a more budget friendly hotel/motel for less.
Colleges and Universities sometimes rent out student housing especially during the summer months. There is not any established database for finding this information, but you may be able to contact area colleges and universities to ask if they do this.
Share Your Experiences
Do you have any personal experiences and ideas for lodging for families with young kids? Do you know of a specific hotel property that has rooms with separate bedroom(s)? If so, please feel free to leave a comment below. You never know how the info you share may be helpful to another reader. Happy travels!