Yes, babies are expensive. But, if you are frugal like me, there are plenty of ways to tap into your frugalness and save money. This money saving guide will keep more money in your pocket. Who couldn't use some extra money for groceries, trips, and bottles of wine! Or more realistically, it's money saved so you can spend it on your kids as they get older 🙂
NOTE: If you are raising your baby together with a partner, of course it's important to collaborate on baby purchases. My wife is not as frugal as me, so we sometimes have to find a good middle ground.
Crib
There really isn't a need to spend $400-$500 on a crib, yet many people do. I guarantee that your baby does not care one bit what crib she's in. Finland's government gives expectant mothers a box of baby essentials with the key component being the box itself. The box measures about 28 inches long, 17 inches wide, and 11 inches high. We hear so much about how babies feel secure in a tight space as that's how it was in the womb, which is why swaddling works so well. Yet, we put babies in massive cribs. It just doesn't make sense to me. So, why spend hundreds of extra dollars on a crib when your baby couldn't care less.
There are plenty of great baby cribs (including convertible ones) for under $200. We got a Dream On Me convertible crib for about $120 and used it for two years for each of our boys. (We never used the convertible aspect of the crib as we transitioned both our boys to a regular bed around 2 years old.) Our boys slept great in it most nights, and when they were teething or going through a sleep regression, they slept badly in it. In other words, they slept as well and as bad as any of our friends' babies did in more expensive cribs. We eventually sold it about five years later for $40. So, for our two boys, we spent $80 on a crib. That's a win in my book!
Car Seats
Like with cribs, there are very safe, highly reviewed car seats for around $150 as opposed to $300+, but since car safety is so important, I believe this is one product you should really research and decide what is best for your family. One thing to keep in mind that many parents don't realize is that car seats do have expiration dates (around 6-8 years). Over time, the plastics and fabrics can become less effective due to temperatures in the car as well as general usage. This is actually a big factor why I think it's better not to drop $300-$400 on a car seat.
For example, you may begin with an infant car seat. Once your child reaches 1 year old, you may transition him to a convertible car seat. Around 5 years old, he may transition to a booster seat. Sure, a convertible car seat can go up to 8+ years, but the seat would be at or beyond its expiration. You can get good booster seats (with even a harness option) for under $100. So, if you spent $200 on a convertible car seat and then $100 on a new booster, it would still be the same cost or less than the $300-$400 on one convertible seat. Plus, I would think that a new car seat is safer than a $300-$400 car seat that's had 5 years of usage.
Also, if you're not aware, Target has a wonderful car seat trade-in program event. (I believe Walmart has a similar program.) The event is only at a certain time each year. At the time of writing, you can trade in any old car seat regardless of condition and receive a 20% off coupon for the purchase of a new car seat. You can get multiple 20% off coupons if you trade in more than one car seat. If you are not familiar with it, I highly recommend looking into it. We've used it and saved a good deal of money.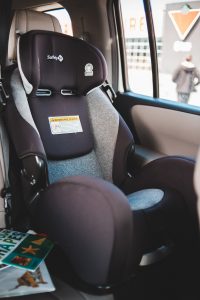 Diapers
You'll be needing lots and lots of diapers. There are definitely ways to save a good deal of money here. One way is to buy non-brand name ones. A lot of parents prefer certain diapers to others and we were the same. For instance, we did not like Huggies but liked Pampers. Try a few to find what works for you and baby. Ultimately, we liked the Target brand, Up & Up. They had the wetness indicator and we found them to be soft. For cost comparison (at the time of writing), Target's 192 pack size 1 diapers cost $21.99. Pampers baby-dry 204 pack size 1 diapers cost $39.99. I like to calculate the diapers per $1, so 192/$21.99 is 8.73 diapers per $1. Pampers is 204/$39.99, which is 5.10 diapers per $1. In other words, you get about 3.5 more diapers per $1 buying the Target brand. Over time, that adds up to some decent savings. You could also divide the other way to get cost per diaper. Doing this for the Target brand gives you $0.11 per diaper ($21.99/192). Pampers would be $0.20 per diaper ($39.99/204).
Another option if you want to save on diapers is to consider cloth diapers. We mostly used cloth diapers for our first son. If we were traveling or out for the day, we used disposables. I won't get into all the details about cloth diapers in this post, but you can do your own research to see if cloth diapers might be right for you. There are quite a few posts you can find through a simple web search comparing costs of cloth diapering to disposables.
Clothing
I never understood paying $20 for a toddler t-shirt that your child will outgrow in a few months. The same goes with $50 jackets or shoes. Like I wrote about earlier regarding a crib, your child will not know the difference between wearing a $20 t-shirt or a $5 t-shirt.
Personally, I love second hand clothes. It's a fraction of of the cost and I believe in the idea of reusing items. Just Between Friends holds consignment events selling used clothing, gear, toys, and other baby and kids items. We've been to their events several times and I highly recommend checking it out. Once Upon a Child are stores selling used kids items. They have stores throughout the United States. We have one near our house and we've gotten clothes, shoes, books, toys, and a stroller from them. You may be able to find items at places like Goodwill too, but since it's not a kids specific store, I haven't found them to be very good. You can easily search online to find second hand kids' stores in your area. Of course, yard sales and hand-me-downs from friends and family can be great options too!
Coupons and Price Match
In today's technologically connected world, it's so easy to find coupons and take advantage of price match to save money. I'm not an extreme couponer, but I often do not pay full price for items. For example, I'm pretty sure I haven't paid full price for anything at buybuy Baby in years. It seems like buybuy Baby and its connected store, Bed Bath & Beyond, just send you endless coupons. Since you can use the coupons interchangeably between the stores, there's always a coupon to use.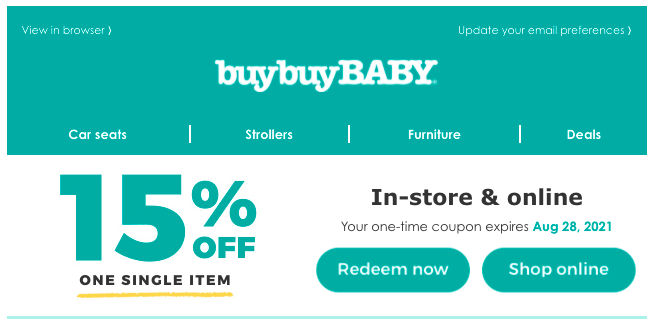 The internet is an amazing tool. Within seconds, you can search and often find coupons. For example, we were at Kohl's once to return something, but then saw something around $25 we wanted to get (we all know how that goes). I pulled up my phone and searched Kohl's coupons and within a minute found a 20% off coupon. In literally one minute, we saved $5.
Price match is less commonly used but equally simple. Many stores will price match if you can find the same item for less. While some stores have parameters such as only honoring brick-and-mortar prices or non-sale prices, it's still so easy to search an item online and see the price for each store. With minimal effort, you can almost always get the lowest price for an item. I've done this many times from clothing to toys.
Other Money Saving Tips
Ultimately, saving money comes down to your mentality. If you make it a priority to save money, you can. Here are some final tips for saving money on your baby.
Remember, secondhand things are a fraction of the price.
Some people have to have new things for their child. If that's you, to each one's own. If you're like me though, if it's something we can use, I don't care if it's new as long as it's safe and clean (or easily cleaned). Sometimes, great stuff is even free! When we transitioned our younger son to a regular bed, the plan was to give him the bed our older son had been using. Now we needed a bed for our older son. One of our neighbors was getting rid of an old bed they used for their child, so we grabbed it for free! It was a high Captain's bed, and there were no issues with it. It was easy to get our older son excited to "move up" to this cool, high bed. We then ordered a well-reviewed mattress on Wayfair for about $100. Minimal cost for a great bed.
So, check out yard and garage sales. Browse Facebook Marketplace. You can find all sorts of inexpensive items and free stuff. We got an awesome, comfortable glider on Craigslist for $40. New gliders are often $300-$500, which just seems crazy to me. We got another glider for free when we were on a walk in our neighborhood and someone had put it out with a free sign. The glider was in good shape, but the cushions were crappy. We went to Walmart later that week and spent $20 on some patio cushions and had ourselves a nice glider!
Look for Amazon Warehouse deals.
When you order things on Amazon, look for where it says, "used and new offers". Many times, the exact item will be quite a bit cheaper coming from Amazon Warehouse. Look especially for the "Used – Like New" condition. This generally means the item is brand new, and it's just the packaging that is damaged. I couldn't care less if the box that I'm going to throw away is damaged. I've ordered many "Used – Like New" items over the years, and they've all been perfectly fine. Honestly, in many cases, I couldn't even make out any issue even to the packaging.
Ultimately, having kids will cost a pretty penny. By being a savvy shopper though, you can definitely save yourself hundreds of dollars a year. Please feel free to comment or share any of your money saving tips below.