Halifax is a beautiful city in the province of Nova Scotia, Canada. It's a coastal city located on the Northern Atlantic Ocean. A friend of ours had recently moved there, so it provided the perfect opportunity for us to visit! My wife and I have both traveled a good amount, so we were excited to take our two young sons (4 and 1) out of the U.S. for the first time. Here are some great kids' attractions and activities to do in and around Halifax.
Halifax – Dartmouth Ferry
Our friend actually lives in Dartmouth, which is across the harbor from Halifax. Halifax Transit operates the ferries that run continuously (generally every 15 minutes) between the two cities. The ferry ride is quick at less than 10 minutes and it's wonderful. Since it's part of the public transit system, the cost is only CAD $2.00-$2.50 depending on if you buy tickets ahead of time or pay cash fare. The ferry can accommodate bikes too. There is seating upstairs and downstairs. Our older son loves all kinds of vehicles, so he was thrilled to ride the ferry, which we did a few times.
Halifax Waterfront and Boardwalk
Boardwalks are always a fun time! The Halifax Waterfront Boardwalk is no exception. It's a really nice stroll with shops, food vendors, museums, and pretty views. You'll see lots of boats as well. There is also a Sea Bridge that is actually in the water, so it sways which is quite neat. The bridge was originally for the purpose of a detour during some construction in the area, but it's become a touristy attraction. I'm not sure what the long term plan for it is now. This article provides some info.
Museum of Natural History
This is another museum that should be enjoyable with the kids. The Museum of Natural History's webpage says, "See ancient fossils, glittering gold, stunning Mi'kmaq artifacts, sea creatures from an ocean tide pool, deadly mushrooms, frogs and snakes and whale skeletons. From an eagle's nest to the ocean floor, there's something for everyone." My son liked the spider scavenger hunt.
Discovery Centre
The Discovery Centre is a hands-on, science museum on the waterfront. It's a fairly large facility with good exhibits and plenty of opportunities for kids to explore. Our 4 year old loved maneuvering the model crane machine. The top floor has a designated kids area geared for younger children. There's also a little cafe there to grab some snacks – and coffee 🙂 if needed. However, I recommend checking out the Halifax Seaport Farmers' Market, which is right next to the Discovery Centre. There you can find lots of food vendors and shops.
Theodore Too Tugboat Tour
Theodore Tugboat was a Canadian television series that ran from 1993 to 2001. Theodore Too is a tugboat based on the TV series and tours operate from May – October of the Halifax Harbor. The tugboat is very cute with its distinctive red cap and smiling face. The Theodore Too Tour lasts 30-45 minutes and departs from Murphy's on the Water restaurant. I believe tickets can be purchased easily from the restaurant, but Ambassatours is the operating company and tickets can be purchased on their website too. Our boys enjoyed the tour a lot.
Harbour Hopper
Like many cities now have, Harbour Hopper is an amphibious tour that travels on land and water. The one hour tour takes you to many of Halifax's famous sites while providing narration. Some of the sites include Citadel Hill, the Public Gardens, and Georges Island. The narration is quite interesting as it shares facts and stories about the city. The history of the Halifax Explosion is fascinating. There is also a Hopper Express version of the tour that's 30 minutes. Harbour Hopper is operated by Ambassatours as well. The Hopper is a good way to get an overview of the city, and something kids will enjoy. It's definitely still worthwhile to take the time to truly visit some of the sites like Citadel Hill and the Public Gardens in detail.
Halifax Central Library
The Central Library is architecturally beautiful and surely worth a visit. It's a good place to have a little downtime if you've been out seeing the sights. It can also be a welcome reprieve from the heat or cold outside. There is a cafe, along with a great kids area. The day we were there, the library had a kids' BINGO activity. There were over 20 kids participating having a lot of fun.
Alderney Landing
The ferry that runs between Halifax and Dartmouth docks at Alderney Landing on the Dartmouth side. While Halifax rightfully gets the bulk of visitors' attention, don't neglect checking out Alderney Landing. First off, it's simply scenic to view Halifax from the other side, but Alderney Landing has shops, an art gallery, an outdoor stage and indoor theatre, and a library. I recommend trying Evan's Seafood, which is a seafood market and restaurant. It's casual, like a food court setting. We ate there one night and the food was so delicious.
Fisherman's Cove and McCormacks Beach Provincial Park
Fisherman's Cove and the adjacent McCormacks Beach Provincial Park are a short drive from downtown Halifax at Eastern Passage. The Cove is a old fishing town with cute, colorful shops. McCormacks Beach Park has a picturesque short boardwalk offering great views. Boondocks Restaurant is in Fisherman's Cove and open year round. It's a fun restaurant with good food. They have a 34 rubber duck scavenger hunt that our older son (and me) got really into. I'll be honest, I was more invested in finding every duck, which we did!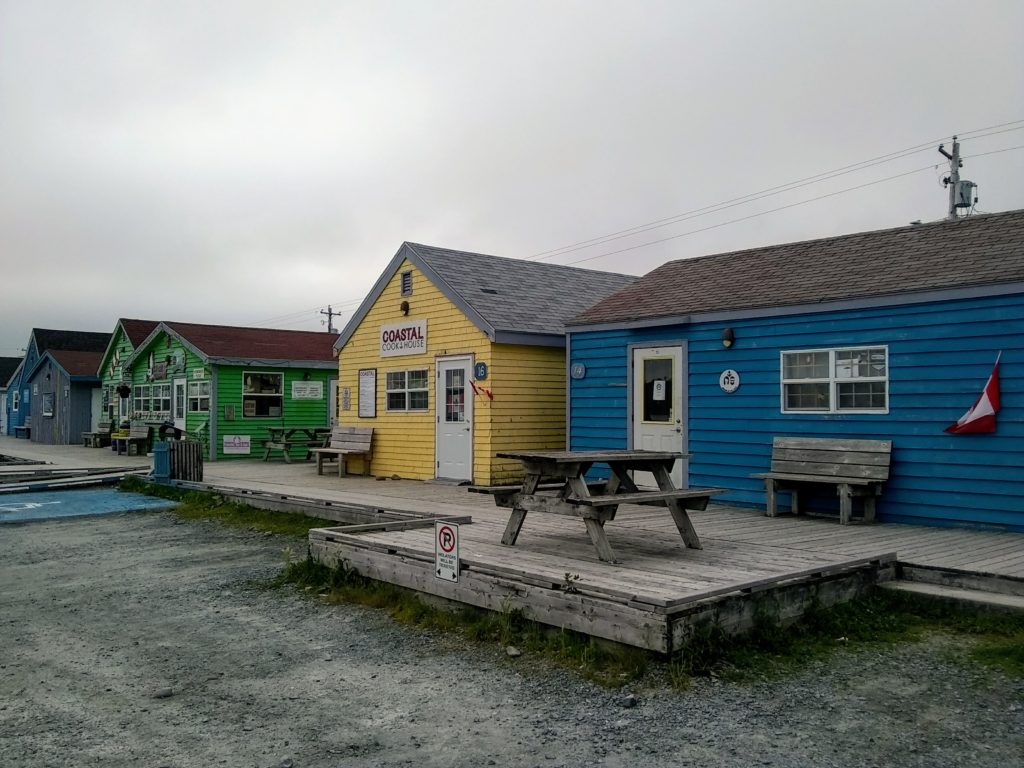 Scenic Drives Outside Halifax
If you have the opportunity to head out and explore the open spaces, do it! Even just a 20-30 minute drive can get you into nature areas that are breathtaking. It's a great change of pace to explore the outdoors and do some hiking. You won't be disappointed!
Some scenic views around Halifax