This post contains affiliate links.  If you make a purchase through one of these links, I may earn a commission, but it has no additional cost to you.  This truly helps support this blog and the work I do for it, so thank you in advance!  As an Amazon Associate I earn from qualifying purchases.  For more information, see the disclosure policy.
If you're reading this, you probably have a kid that's into vehicles and thought this list might be fun and useful. Thank you! I certainly hope you enjoy it.
My son is definitely one of those vehicle loving kids. As a result, we've read our share of books on all sorts of vehicles. We even make a point to ride public transportation. He genuinely seems to enjoy any opportunity he gets to interact with these large vehicles. I share some of my favorite books on vehicles below. Please note that the list in no particular oder.
On the Train (A Shine-A-Light Book)
is an interactive book centered around, you guessed it, shining a light. My older son received it for his 4th birthday and immediately loved it. You can use a flashlight to shine behind each page, which reveals "hidden" images. The images aren't really hidden as they are clearly seen once you turn the page. The book doesn't have a story, but rather just revolves around things that are happening that can be revealed with the flashlight. For example, seeing who is collecting tickets, discovering what's in the freight car, or checking out what's in passengers' luggage. If you like the book, there are several others in the Shine-A-Light series including On the Construction Site
, Dinosaurs
, On the Plane
, and The Human Body
.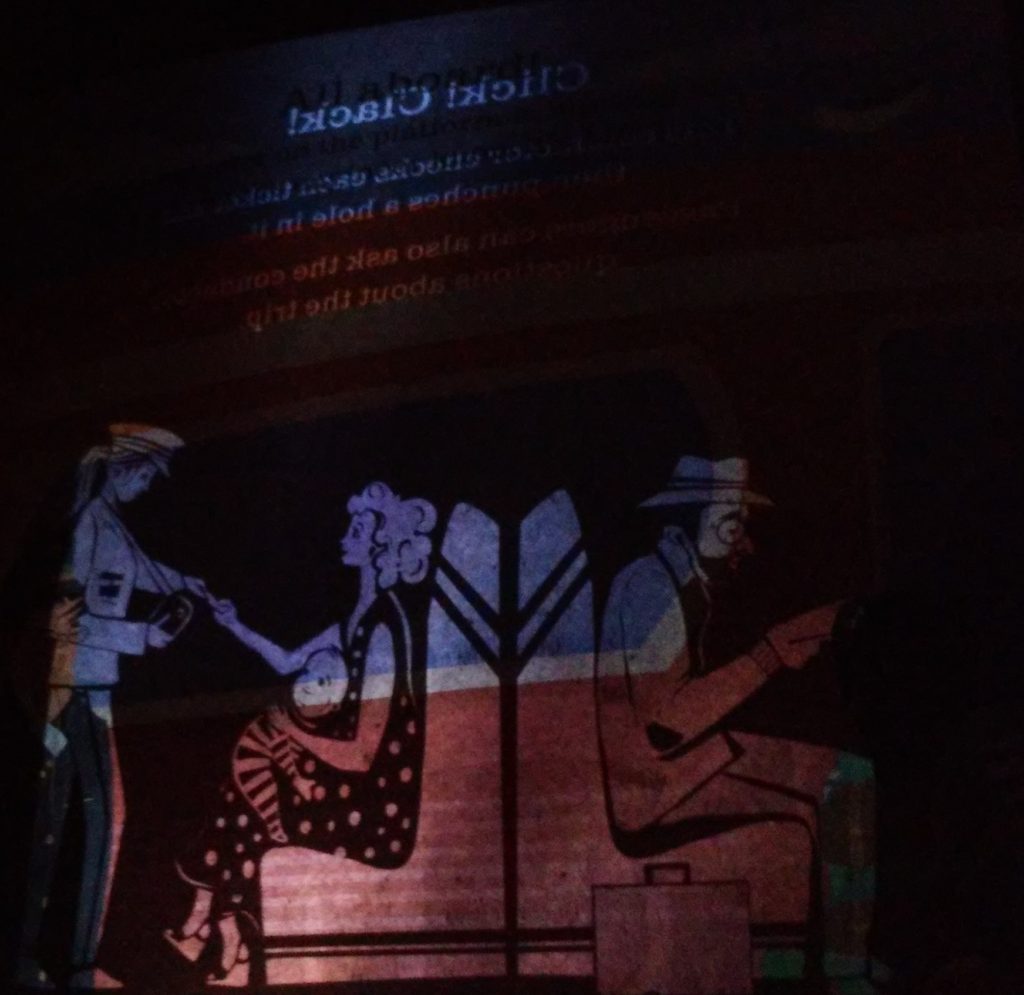 Best attribute(s): Uniqueness; it's definitely something different than other picture books.
Steam Train, Dream Train
by Sherri Duskey Rinker is a lovely book with fantastic illustrations. It's a simple picture book that goes through various train cars and briefly describes each one's use, including boxcars, tankers, well cars, flatbeds, etc. The book also rhymes, which many kids will enjoy. There is a also a Steam Train, Dream Train 1-2-3
book and a Steam Train, Dream Train Colors
book. Personally, I like these ones better than the initial book especially if your child is at the point of learning numbers and colors. My son loved the subtlety of the illustrations in the 1-2-3 and Colors books where when you are on a page, you can see the end of the previous train car and the front of the following train car.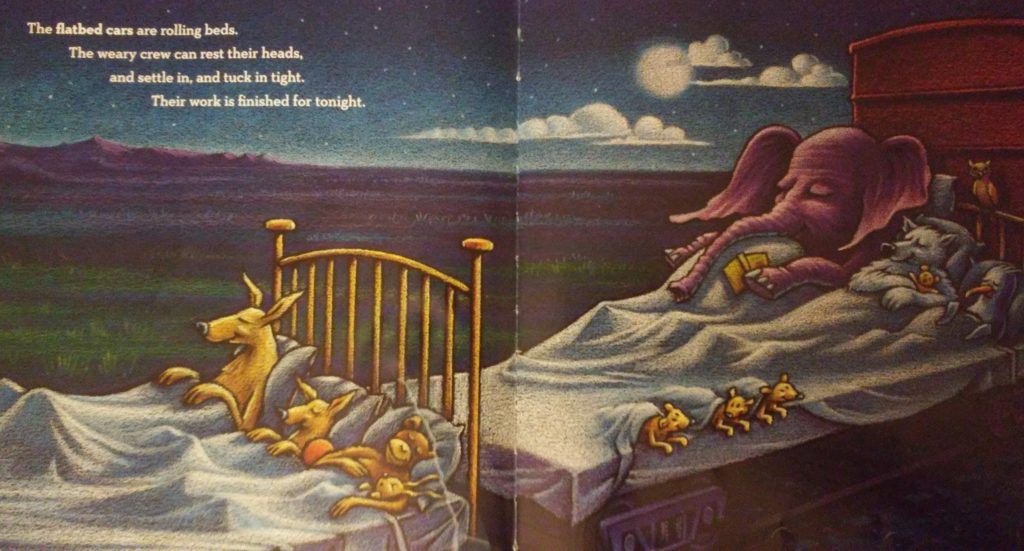 Best attribute(s): Illustrations; the illustrations really are great. The related 1-2-3 and Colors books are excellent too.
Mighty Dads
by Joan Holub is a book centered on construction vehicles that I absolutely love. Perhaps it's because I'm a dad? I just love the little construction vehicles on each page trying to keep up with dad. It's a short book with easy text that basically follows the same structure on each page. Each page essentially has two rhyming lines followed by a sentence highlighting that vehicle's sounds or what it does. This simplicity is good for younger kids who can very quickly remember the structure and words on each page as my son did after just a few reads. I also found the illustrations to be very cute.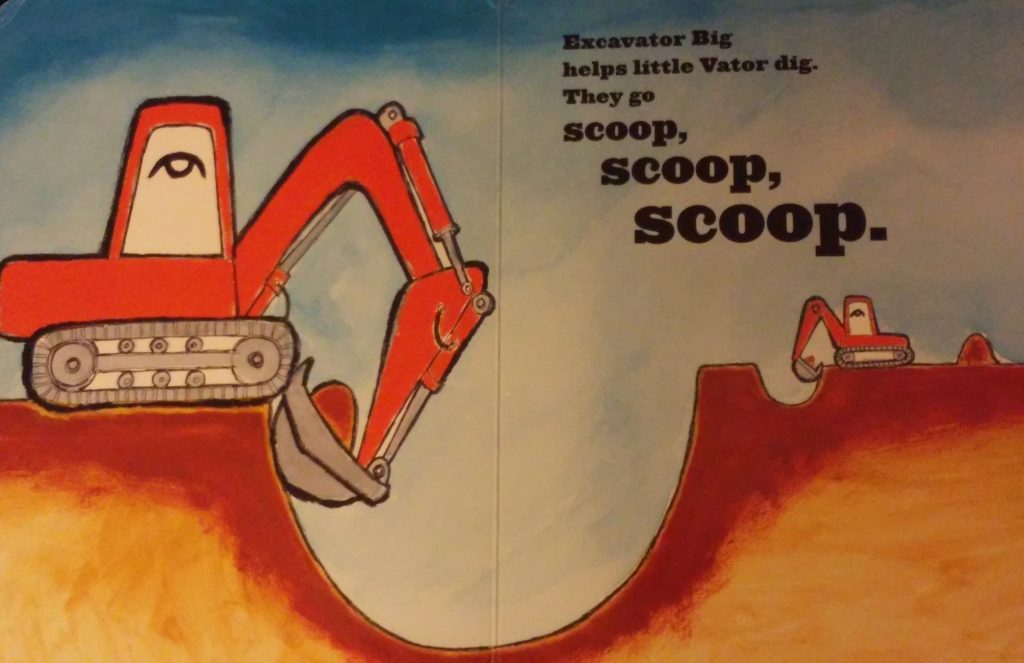 Best attribute(s): Theme; while simple, the theme of the child looking up to dad just works well in this book.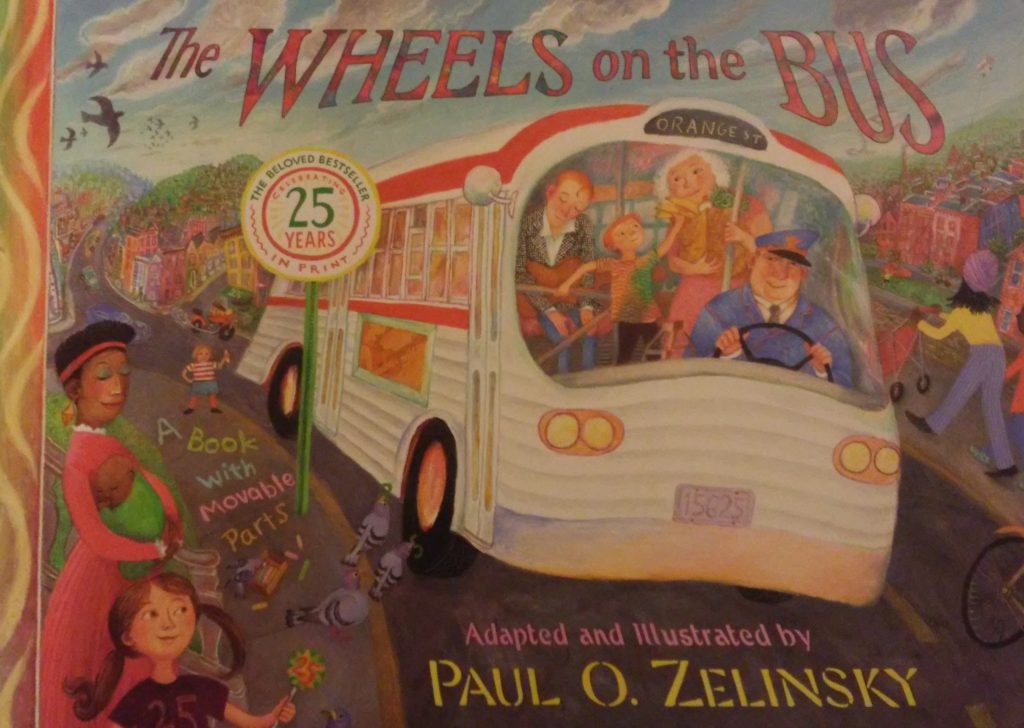 The Wheels on the Bus
by Paul O. Zelinsky is a classic. It's a board book with all sorts of movable parts like pull tabs and flaps that allow kids to follow and create the movements from the well known song. All the movements are very well thought out and the illustrations are excellent too. My son thoroughly enjoyed reading the book and it was an immediate favorite after we got it. I didn't discover this until pretty long after we got the book, but on Paul O. Zelinsky's website, it states, "Now with a 25th Anniversary cover, featuring a lot of 25s, some extremely hidden. Can you find them?" This adds another fun element you can do with your kid.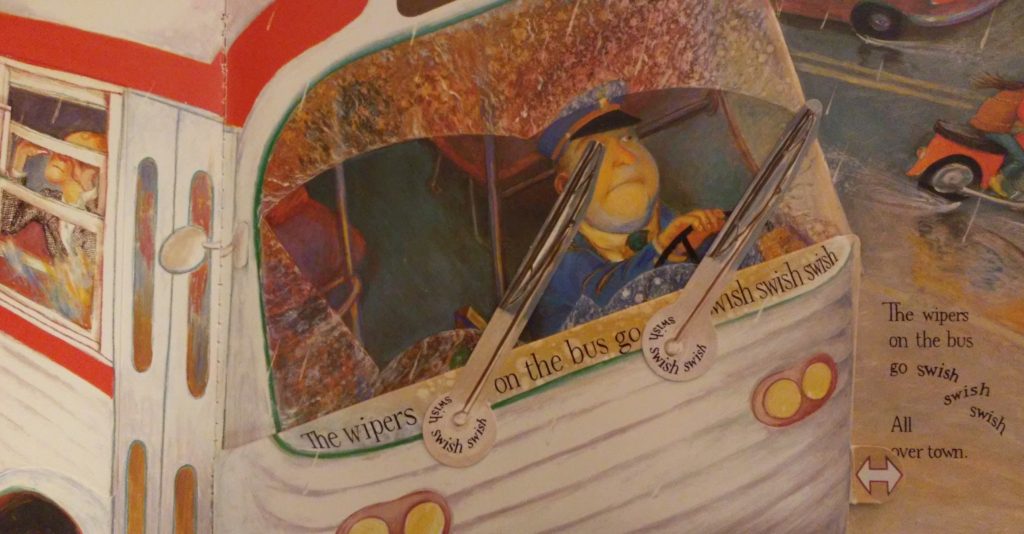 Best attribute(s): Movements; kids will definitely love manipulating all the tabs and flaps. Connection to song; it's easy for kids to relate to the book as most will already be familiar with the song.
Sleep Train
by Jonathan London is a more recently published book from 2018. It's partly a counting book as a boy counts the cars of the train he is on. As the title may suggest, it also functions well as a bedtime book. The writing is simple, but I found it catchy. In my opinion, the illustration is what really shines. While I think the boy looks a bit odd, the illustrations in general are wonderful. This was what caught my eye about the book initially when we saw it at our local public library.
Best attribute(s): Illustrations; the contrast of colors are excellent and serve to create serene and beautiful images that work very well with the text.
Busytown on the Go!
by Richard Scarry is a fun book featuring a lot of silly characters and vehicles going about their business in town. For example, there is a pencil car, apple car, and hot dog car. Every page is in fact "busy" with lots going on in the illustrations. The character tabs at the top of the book correspond to a character for that page, which is a different design and a good learning element (almost like a table of contents). Every time I read the book with my son, we had a lot of fun pointing out all the silly things on each page.
Best attribute(s): Silliness; sometimes we all just need to be a little silly and have some fun!
Scuffy the Tugboat
by Gertrude Crampton is a classic Little Golden Book. This book is one of my favorites. It tells the adorable story of a toy tugboat who has no desire to be confined to just be in a home. "I was meant for bigger things," he says. Scuffy sets off on an adventure and discovers that the world is large and can be a dangerous place. He comes to appreciate the simple home life. This can be a great book to instill in kids the specialness of home and family. I also find the illustrations to not only be very cute, but to really enhance the text. This is valuable in helping kids comprehend the book since it has more of a story than many of the other books on this list.
Best attribute(s): Message; the message of daring to dream and to be adventurous but appreciating your roots is an important one.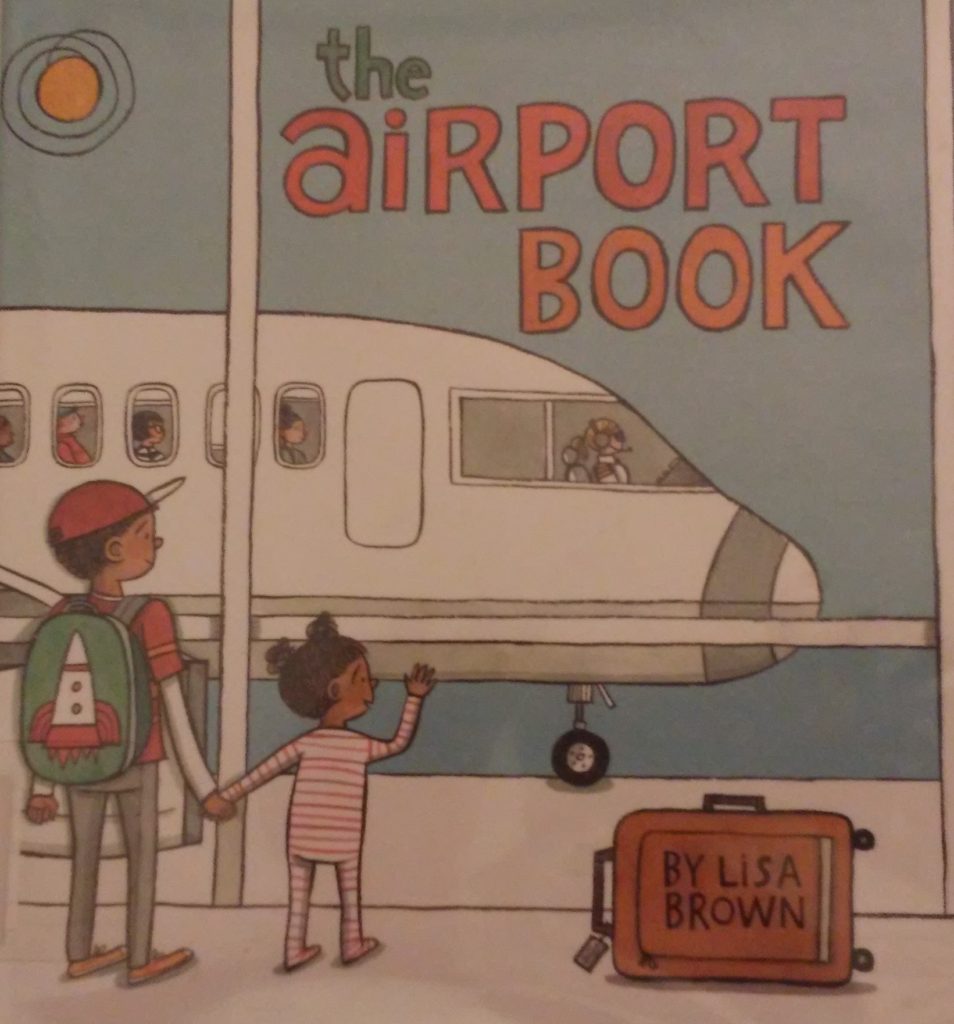 The Airport Book
by Lisa Brown is like an informative writing piece combined with a comic book. The book describes the intricacies of an airport through snippets of text while also incorporating character speech bubbles. Kids who love airports and planes will highly enjoy all the details in this book. I think it can also be a useful book to teach and familiarize a kid to an airport prior to going on a plane for the first time. The illustrations are very well done and also accurately capture the diversity of people you would see at any major airport.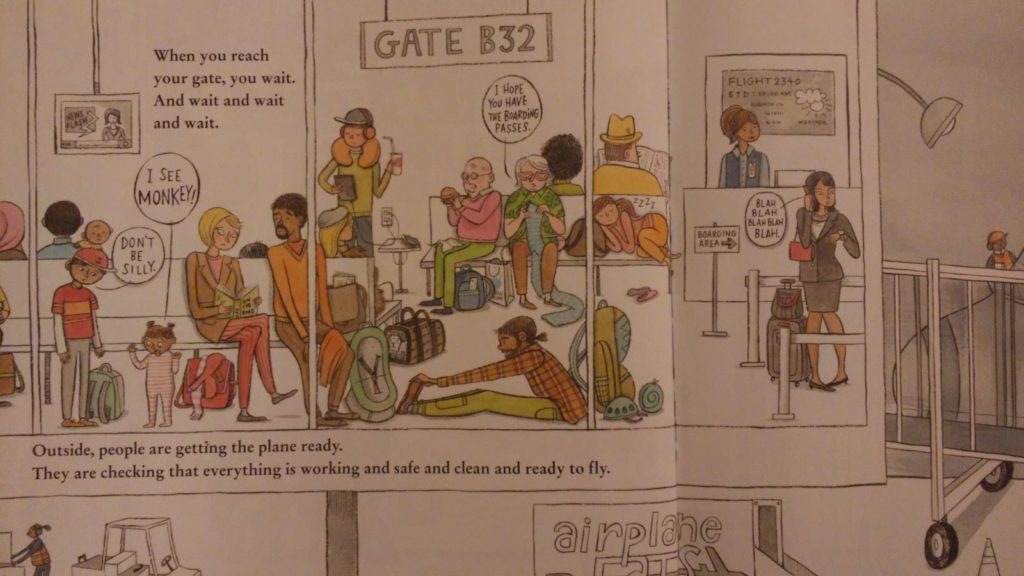 Best attribute(s): Details; the book is full of information about the airport through both text and pictures. Structure; the layout of the book is unique and fun to read. I also love how the beginning and end of the book tie together.
Little Plane Learns to Write
by Stephen Savage is a clever story about a plane that is learning to write but can't do Os because he gets dizzy. He can do other maneuvers, but his inability to write Os causes him to leave words like "CLOUD" unfinished as "CL_UD". The book is very short but still very entertaining. Kids who are learning or just learned their letters would likely really enjoy it. My son liked to say the letters for the words the Little Plane was trying to spell. We also had fun pronouncing CL_UD and RAINB_W with the missing Os, so it can serve to reinforce letter sounds too.
Best attribute(s): Message; while the book is simple and short, it is able to effectively touch upon the message of continuing to try even when something is difficult in a cute way.
Goodnight, Goodnight, Construction Site
by Sherri Duskey Rinker is one of the most popular vehicle picture books. My son loved it and it's basically a must read for any kid who loves construction trucks. The rhyming text is very well written and the illustrations are also top notch. The book follows the work of five construction trucks: crane, mixer, dump truck, bulldozer, and excavator, as they work hard then prepare for bed. Not surprisingly, it's great as a bedtime book. The popularity of this book is a testament to its quality.
Best attribute(s): Flow; the rhyming lines and consistent structure as the book moves from one construction truck to another make it a smooth and enjoyable read aloud.
Share Your Recommendations
Of course, there are so many other fantastic vehicle-related books out there. I'd love to hear about some of your favorites and what makes them great. Please feel free to share via the comments below. My son also thanks you in advance!